Gordon Henderson, Director of the Bruin Marching Band

Gordon Henderson
Professor
Director of Bands
Department of Music Vice Chair
office: (310) 825-3835
email:  gh@ucla.edu
GORDON HENDERSON is the Director of Bands and Department of Music Vice Chair at UCLA. Since 1982, Professor Henderson has directed the 250-member Bruin Marching Band, and the Varsity Band, which plays at all home men's and women's basketball games as well as other "Olympic" sports events such as soccer, volleyball, swimming, tennis, gymnastics, baseball, softball and water polo. Under Henderson's direction, the Bruin Marching Band has appeared at five Rose Bowls, four Sun Bowls, three Las Vegas Bowls, two Cotton Bowls, the Aloha Bowl, the Silicon Valley Bowl, the Emerald Bowl, the Kraft Fight Hunger Bowl, the Freedom Bowl, the Holiday Bowl, the Alamo Bowl and the Fiesta Bowl. In 1993, the UCLA Bruin Marching Band received the prestigious Sudler Trophy, presented each year by the John Philip Sousa Foundation to recognize excellence and innovation.
In 2006 and 2008, groups of fifty band members performed at the Hong Kong Chinese New Year Night Parade, and in 2010, fourteen drummers from the Band performed at the 27th Annual Ekitopia Festival Parade in Nagoya, Japan. Recent high profile performances of the Band have included opening for The Rolling Stones at Staples Center in 2013, and an appearance in the premiere episode of The Amazing Race, Season 24, in 2014. Henderson has composed and/or arranged band music for several major motion pictures including In the Line of Fire, Little Nikita, Fatal Instinct, Legends of the Fall, Don't Say A Word, First Daughter, Road Trip, Click, and Struck By Lightning.
From 1989 to 1996, Henderson directed the Jazz Ensemble I, performing with numerous guest artists including Roy Hargrove, Bob Mintzer, Kenny Burrell, Conte Candoli, Matt Catingub, Bill Watrous, Steve Houghton, Snooky Young, Gerald Wilson and Paquito D'Rivera. Under his direction, both the Jazz Ensemble I and the Jazz Combo won their respective divisions at the 1995 Reno International Jazz Festival. From 1985 to 1997 and 2011 to 2013, Henderson also conducted the Symphonic Band.
Professor Henderson served as Head Horn Instructor or Brass Arranger for three Drum Corps International Champions: the Santa Clara (CA) Vanguard in 1989 and 1999, and the 1992 Cavaliers from Rosemont, Illinois.  He has also instructed other drum and bugle corps including The Cadets from Allentown, PA, the Troopers from Casper, WY, Pacific Crest from Diamond Bar, CA, and the Academy from Tempe, AZ.
Since 1990, he has served as the Arranger for the Tenrikyo Aimachi Marching Band in Nagoya, Japan, the nine-time All-Japan National Champions, and he has worked with several championship-winning bands in Thailand. During the summer of 2009, Henderson served as an adjudicator for the quadrennial World Music Contest held in Kerkrade, the Netherlands, where he judged over 80 bands, drum corps and concert percussion ensembles from 14 countries spanning four continents. He returned to serve as a judge at the World Music Contest in July, 2013. Henderson also served as an adjudicator at the Kuala Lumpur International Marching Band Competition in 2009, and in 2012 and 2013, he served as an adjudicator for the Thailand Royal Cups Concert Band and Marching Band Competition in Bangkok.
Dr. Kelly Flickinger, Assistant Director of the Bruin Marching Band

Kelly Flickinger
Doctor of Music
office: (310) 825-3835
email:  uclabruinband@gmail.com
Dr. KELLY FLICKINGER is in his second year as the Assistant Director of the Bruin Marching Band. He previously served as the Head Percussion Instructor and Arranger from 2007 to 2010. Under Flickinger's direction, the Drumline has performed with Linkin Park, Paula Abdul, and was featured on Vicfirth.com. In 2010, Flickinger designed a Drumline performance for the 27th Annual Ekitopia Festival Parade in Nagoya, Japan.
From 2008 to 2011, Flickinger taught Percussion Methods at UCLA, and in 2012 he conducted the Symphonic Band. This year he will be teaching applied percussion to music education majors. From 2008 to 2010, Flickinger served as a percussion instructor for Pacific Crest Drum and Bugle Corps, and he has taught and arranged for numerous high schools throughout Southern California, including the nine-time SCSBOA champion William S. Hart High School.
His travels have taken him to Thailand on multiple occasions, where he has served as a clinician for schools throughout the country. In addition to UCLA, he has served as Percussion Instructor or Arranger for the University of Nevada, Reno Wolf Pack Marching Band and the Central Washington University Wildcat Marching Band.
Flickinger has performed throughout the United States, as well as Canada, Hong Kong, and Japan. He was a member of the Santa Clara Vanguard Drum and Bugle Corps, Black Knights Drum Corps, and Esperanza Drum and Bugle Corps. Recently, he performed on "American Idol" with James Durbin and appeared on stage with Kelly Clarkson, John Legend, Robin Thicke, and Jennifer Nettles on the ABC show "Duets."
Flickinger recently received his Doctorate of Musical Arts in Percussion Performance from UCLA. His dissertation is entitled "Music as a Gradual Lostness: A Performer's Guide to the Phase Music of Steve Reich."

Kelsey Chesnut, Assistant to the Director of the Bruin Marching Band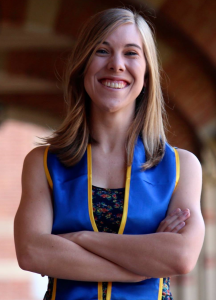 Kelsey Chesnut
B.A. in Political Science
office: 2415 SMB
email: kelseychesnut@uclaband.com
KELSEY CHESNUT is the Assistant to the Director of the Bruin Marching Band. She graduated summa cum laude from UCLA in June 2014 with a Bachelor's degree in Political Science. Kelsey was a member of the UCLA Bruin Marching Band and served as the Trombone Section Leader.In addition to being a member of the UCLA Bruin Marching Band, Kelsey was an active member of the Psi chapter of the honorary band fraternity, Kappa Kappa Psi. As a sophomore, Kelsey served as the Director of Brotherhood/Sisterhood Relations, working closely with Psi's sister chapter of Tau Beta Sigma, Epsilon Kappa.
As a student at UCLA, Kelsey also participated in the 2013 Sharpe Fellows Program and the 2013 UCLA D.C. Fellows program, which gave her the opportunity to live in Washington, D.C. for the summer. In Washington, Kelsey interned at the United States House of Representatives and at Capitol Partners, Inc., a political consulting firm. In her senior year at UCLA, Kelsey worked as an English and Humanities tutor at Groza Learning Center, where she tutored K-12 kids in reading, writing, math, and test prep.
Kelsey hopes to attend graduate school to pursue a Master's degree in Public Policy.